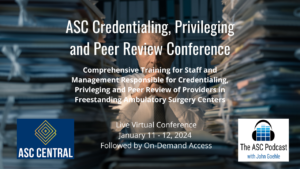 The Ambulatory Surgery Center Industry's most comprehensive training in Credentialing, Privileging and Peer Review.  This program is useful for Administrators, Nursing Directors, and staff involved in the credentialing, privileging and peer review process in your ambulatory surgery center.  Presented live over one and a half days on January 11 and 12th 2024, this conference will be recorded and and available on demand after the live event 
Join John Goehle, one of the nation's leading experts in the ASC industry, and other experts in credentialing, privileging and peer review to learn how to assure your organization follows the proper procedures and meets the regulatory and accreditation requirements and are well-prepared for State, Federal and Accreditation Surveys. 
Listeners will receive valuable resources (including forms) as well as access to the recording for six months after the conference and On-Demand for those that cannot attend the live virtual conference.  
We have applied for 12 AEUs for CASC Certified leaders. 
AGENDA
Day One
Time
Session
Speakers

8:00 – 8:15 AM

Introduction

8:15 – 9:15 AM

The Credentialing Process

What is Credentialing

Importance of Credentialing

Regulations and Accreditation Standards

Basics Credentialing Concepts

John Goehle

Susan Cronkite

9:15 – 10:15 AM

Medical Staff By-Laws and Policies and Procedures for Credentialing and Privileging

Medical Staff By-Laws and Regular Review

Pitfalls in the By-Laws

Common Policies and How to Avoid Citations

John Goehle

Susan Cronkite

10:15 – 10:30 AM

Break (15 Minutes)

10:30 – 11:30 AM

The Application Process

Obtaining Applications

Attestations

Timing 

Delineation of Privileges

John Goehle

Susan Cronkite

11:30 – 12:30 AM

Verification of Credentials

How to perform Primary Source Verification

Secondary Source Verification

License Verification

Hospital Letters

Peer References and Peer Review

John Goehle

Susan Cronkite

12:30 -1:00 PM

Lunch Break

1:00 – 2:00 PM

Approving Privileges

Temporary Privileging

Board Approval Process

Timing of Approvals

Medical Executive Meetings

Board Meetings

John Goehle

Susan Cronkite

2:00 – 3:00 PM

Challenging Credentialing and Privileging Issues:

Malpractice Cases for Providers

Licensure and Privilege Issue with Providers

How to review and document Difficult Situations

John Goehle

Susan Cronkite

3:00 – 3:15 PM

Break (15 Minutes)

3:15 – 4:15 PM

Keeping Credentialing Up to Date

Updating the Records

Maintaining Files

Paper or Electronic

Cleaning up Credentialing Problems

John Goehle

Susan Cronkite

4:15 – 5:15 PM

Credentialing and Privileging in the Leadership and Management Structure

Bringing it all together

Developing working relationships that avoid issues

Outsourcing of Credentialing

Governing Body Oversight

John Goehle

Susan Cronkite

5:15 – 5:30 PM

Q&A / Wrap-up
Day Two
Time
Session
Speakers

8:00 – 8:15 AM

Introduction

8:15 – 9:15 AM

Regulatory Basis for Peer Review and Defining Peer Review

Review the Regulations Related to On-Going Peer Review

Review Common Accreditation Requirements

John Goehle

Susan Cronkite

9:15 – 10:15 AM

Developing a Peer Review Program

Involving the Providers

Timing of Peer Review

Items to Review

Allied Health Providers

John Goehle

Susan Cronkite

10:15 – 10:30 AM

Break (15 Minutes)

10:30 – 11:30 AM

Documenting Peer Review and Summarizing the Results

Documentation Requirements

Reporting the Results throughout the Organization

John Goehle

Susan Cronkite

11:30 – 12:30 PM

Mock Survey of Credentialing, Privileging and Peer Review

John Goehle

Susan Cronkite

12:30 -1:00 PM

Conference Wrap-Up